Like it or not, COLD weather is here! Between the business of the holidays and the shrilling cold temperatures of the winter, outdoor home maintenance is probably the last thing to cross your mind. However, maintaining regular gutter cleanings is more important than ever this time of year. Here is everything you need to know about what the winter can bring for your gutters and ultimately, your home.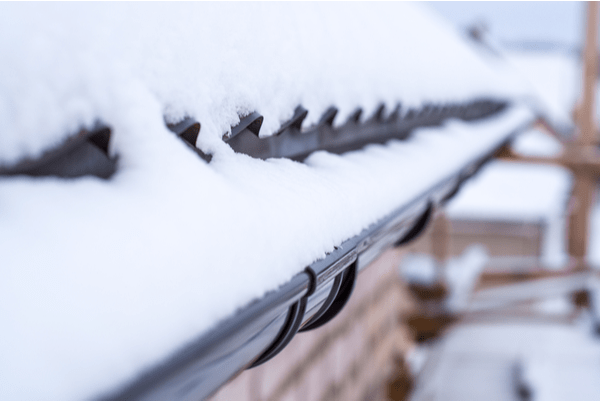 WHY IS WINTER TOUGH ON GUTTERS?
Believe it or not, winter is one of the most difficult seasons for your gutters. Spring brings showers, the summer brings its thunderstorms, and the fall brings down massive amounts of leaves—all precipitations can clog your gutters potentially causing more damage to your home's foundation, interior, and exterior. But every winter brings serious losses from frozen gutters and other weather-related accidents.
With the winter comes heavy ice and other debris. Just like how the summer's thunderstorms can bring down branches and twigs, snow and ice storms do the same but also bring bigger consequences. Your gutters are vulnerable to freezing in the winter and forming ice dams around them, as well. This puts a lot of weight on your gutters causing them to sag, except this weight is usually heavier than what lighter seasons bring. Additionally, by the time winter arrives, your gutters are likely so cluttered with leaves that the melting snow and ice has nowhere to go except overflowing and damaging your home's roof or foundation.
WHAT ARE ICE DAMS?
One of the biggest threats to your home's maintenance in the winter is ice dams. An ice dam is the ridge of ice that forms around the edge of your roof, preventing melting snow from draining off the roof and through your gutters. Ice dams can lead to water damage on the exterior and interior of your home, but these things can be easily prevented with a gutter cleaning.
In addition to having your gutters properly serviced, we'll be sure to check the insulation and ventilation in your attic. Improper insulation and ventilation is actually the root of most ice damming and gutter back-up. Ice dams form because the warm air from the inside of the house warms the underside of the roof causing the snow and ice to melt. The melted water then runs down the roof until it reaches the cold overhang where it freezes, forming ice dams and icicles. These prevent runoff water from flowing freely through your gutters and forces the water into the walls or ceilings of your home. 
Whether you need new gutters, gutter repair, gutter cleaning or gutter guards, Gutter Boyz of Kentucky can help. We serve a majority of Western Kentucky. Give us a call today for a FREE ESTIMATE at (270) 906-3055!